Mountville Fire Dept No. 1 will be holding a Food Truck Drive Through in place of their annual carnival from Friday, May 15th, through Sunday, May 17th.
The drive through will have an assortment of delicious festival food including funnel cake, cotton candy, pizza, cheese steak, hot dogs, Auntie Anne's pretzels, burgers, and even treats for the dogs!
The entrance to the drive through is at Trinity United Church of Christ on Columbia Ave with the lineup of concessions next to Froelich Park. When you arrive, you'll get a map and menu to decide on which trucks to stop at. Then you simply pull up to a truck and someone will take your order.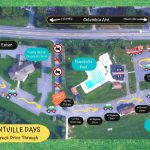 Hours
Friday: 4pm – 8pm
Saturday: 11am – 8pm
Sunday: 11am – 4pm
Admission
Event Sites & Contact
Please note that PA Carnivals does not operate, nor is affiliated with any event listed on this website.
Directions