Join us for the 30th annual Palmerton Community Festival. Free parking, free entertainment.
Bingo, Rides, Games, Delicious Homemade Food, Demonstrations, Continuous FREE entertainment.
Ride specials Friday 5pm-11pm $20 wristband, Saturday 1pm-5pm $20 wristband, Sunday 12pm-4pm $20 wristband
Visit our website for more info www.palmertonfestival.com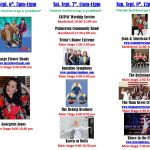 Please note that PA Carnivals does not operate, nor is affiliated with any event listed on this website.
Directions
Palmerton Borough Park
3rd St and Delaware Ave, Palmerton, PA 18071
Get Directions