Our Lady of Good Counsel 2019 Church Carnival – Southampton PA
Mark your calendar now and join us for all 3 evenings!
Thursday, June 13th, Friday, June 14th and Saturday, June 15th
6:00-10:00 PM nightly
BRING the FAMILY!!!
JOIN US FOR NIGHTLY DINNER UNDER THE BIG TENT!
Thursday, June 13 • Rocky Balboa Night – Hot Roast Beef, Pasta Salad & Dessert • Tower Entertainment
Friday, June 14 • American Bandstand Night – Crab Cakes/Chicken, Slaw & Dessert • Dueling Pianos
Saturday, June 15 • Philly Sports Night – Cheese Steaks/Sliders & Fries • Tower Entertainment
PRIZE BINGO – Saturday June 15 at 1 PM – Tickets – $25 if purchased before June 3.
New this year! Carni Cash will be sold for all OLGC food purchases!
TV and $25,000 Cash Raffle on Saturday Night!
BINGO • Come try your luck all 3 nights!
AMUSEMENTS • FUNNEL CAKE • CHILDRENS GAMES • GAMES OF CHANCE • BAKE SALE
Contact us for more info on sponsor opportunities & pre-sale discounts for Carni Cash, Carnival Rides and Prize Bingo tickets!!
· AMUSEMENT 3-DAY WRISTBANDS ARE AVAILABLE FOR $50.00 PER CHILD
· MegaPass 3-Day Presale Discount $40 (Available for $50 at the event) & Nightly ride wristbands $20 (Nightly wristbands only available through pre-sale and will not be available at the carnival) per person per day can be purchased online when you purchase before JUNE 12, 2019 11:59 PM. Innovativeticketing.com/2019OLGCCarnival
· Visit www.olgc.org for more info or email olgccarnival@gmail.com!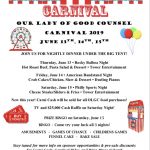 Hours
Admission
Event Sites & Contact
Please note that PA Carnivals does not operate, nor is affiliated with any event listed on this website.
Directions