The Union Fire & Hose Co. #1 of Dover will be hosting their 74th Annual Firemen's Fair from Thursday, August 29th, through Labor Day, September 2nd, located at the fire company grounds on Canal St.
The five day fair features live music every night, a midway with carnival rides and games for all ages, fantastic food including delicious platters and their famous Chicken Corn Soup on Saturday, exhibits and crafts, and much more!
Entertainment at the 2019 fair will be Borderline on Thursday, Jesse Garon "A Tribute to Elvis" on Friday, Pat Garrett on Saturday, the Jacobs Brothers on Sunday, and Dean Crawford and the Dunn's River Band on Labor Day.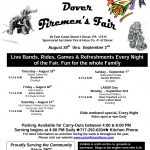 Please note that PA Carnivals does not operate, nor is affiliated with any event listed on this website.
Directions
Union Fire and Hose Company
30 E Canal Rd, Dover, PA 17315
Get Directions