The Chestnut Ridge Community Volunteer Fire Company will hold their 58th Annual Fair from Monday, July 8th through Saturday, July 13th, located at the Flax Scutching Festival grounds in Stahlstown.
The six day fair will have live entertainment, inflatable rides for kids Wednesday through Saturday, Garden tractor pull on Friday along with the Kid's Power Wheels Derby on Monday, Parade on Thursday at 7pm, and a spectacular fireworks display on Saturday night at 11pm.
Pre-sale ride wristbands for the inflatable rides are $10 each and are sold through Tuesday, July 9th. Admission to the fair is free Monday – Friday with admission charged on fireworks night, July 13th. Admission on July 13th is $5 per carload or $2 per walk-in.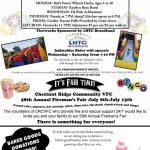 Hours
Admission
On July 13th, admission is $5 per carload/$2 per walk in
Event Sites & Contact
Please note that PA Carnivals does not operate, nor is affiliated with any event listed on this website.
» See more local deals
Directions