The 2019 Cement Belt Fair will take place from Monday, June 24th through Saturday, June 29th, located at Cementon Park on Dewey St. Come out for six big days of fun including carnival rides for all ages, plenty of fantastic festival food, carnival games & prizes, nightly entertainment, and a spectacular fireworks display on Saturday night!
Pay one Price ride wristbands are $17 per wristband/per night. Advance sale pay on price vouchers are sold at King Kone in Whitehall for $10 each – buy 5 and get 1 free!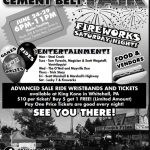 Hours
Event Sites & Contact
Please note that PA Carnivals does not operate, nor is affiliated with any event listed on this website.
Directions