Growing Into One Of Pa's Finest Events for the Whole Family
Over 150 Food and Craft Vendors
Friday….. Crafts, Music, Air Boat Rides on The River
Saturday..One of the BIGGEST Garden Tractor Pulls….Air Boat Rides…Antique Car Show…Music All Day….Tommy Guns Concert at Sat. Night
Sunday…..Car Show Continues with over 100 cars…..Music All Day…..Food….Crafts….Air Boat Rides…..Even Antique Tractors on Display
Magician….Face Painter…Bring the Entire Family!!!
ONE OF THE LAST EVENTS THAT OFFERS…..FREE PARKING….FREE ADMISSION……FREE ENTERTAINMENT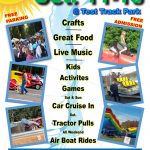 Hours
Friday: 12 noon – 8pm
Saturday: 10am – 10pm
Sunday: 10am – 6pm
Admission
Event Sites & Contact
Vendor Info
This event is looking for:
Musical Entertainment
Midway Shows/Entertainment
Food Vendors
Retail/Craft Vendors
Other (Knocker Balls, Bull Rider, Antique Tractor Show, Roasted Corn )
The 9th Annual Riverfest is set for October 11th, 12th, & 13th of 2019
@ The Test Track Park, Berwick, PA
For information call Nancy Sborz @ 570-752-2723 X 15
Note to Vendors: Be specific as to what you are selling. If it is not listed on your application you may be asked to stop selling an item.
Food and Specialty Drinks such as lemonade, orangeade, coffee (lattes, cappuccino, espresso etc) will be limited to 2 vendors. Drinks such as soda, water, coffee, hot & iced tea and Hot Chocolate is not included in the 2 limit.
Dealers, such as Scentsy, Thirty-One Gifts, Pampered Chef will be limited to 1 dealer.
FOOD VENDORS WILL HAVE TO SUPPLY THE BOROUGH WITH A CERTIFICATE OF INSURANCE NAMING THE BERWICK BOROUGH AS AN ADDITIONAL INSURED.
Please note that PA Carnivals does not operate, nor is affiliated with any event listed on this website.
Directions
Test Track Park
Test Track Park, S Eaton St, Berwick, PA 18603
Get Directions