St. Eugene Parish Carnival (200 S Oak Avenue, Primos); Wednesday Sept 26 through Saturday Sept 29 beginning at 6:00 each evening and 4pm Sat. Rides, food and games for all ages.
Discounted advance tickets are available (20 tickets for only $25 – each ticket is good for one ride). Tickets may be purchased online at: sainteugenechurch.net – click Tickets under Parish News & Events.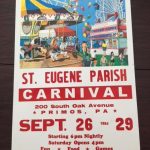 Hours
Wednesday – Friday: 6pm – 10pm
Saturday: 4pm – 10pm
Admission
Event Sites & Contact
SALE ALERT!
Extra 20% Off on Groupon activities deals with promo code
SAVE
(thru 4/20)
Directions