~~FROM POTTSTOWN TO NORRISTOWN AND EVERY TOWN IN BETWEEN~~
Please join us for the 'HARVEST BEACH PARTY 2018' at Tabernacle Harvest Church
Saturday, August 25th
12:00PM to 5:00PM
~~FUN STUFF~~
Giant Water Rides
Mini Ball Pits
Moon Bounce
Lots of fun games!
Music
More Games, More Fun, More Food!
~~FOOD STUFF~~
Corn on Cob
Fruit
Snow Cones
Water Ice
Popcorn
Hot Dogs
Snack Bags
Pretzels
Lemonade Stan
..and more!
~~SCHOOL STUFF~~
Back to school haircuts free & available (first come first serve).
Back to school backpacks and school supplies (first come first serve).
Please make sure you stop at the registration table to get a ticket for your backpack!
This is a free to the community event! Come out enjoy a fun relaxing time at the Harvest Beach Party right in Pottstown!
#HARVESTLIFE
Tabernacle Harvest Church
398 Circle of Progress Drive, Pottstown, PA
For more information
(484) 624-8209
Brian M. Weatherspoon, Founder/Senior Pastor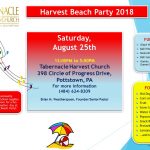 Hours
Saturday, August 25th: 12 noon – 5pm
Admission
Event Sites & Contact
Vendor Info
If you are a Non-Profit or Community Support organization and would like to have an information table at this event please call the church for more information during office hours at (484) 624-8209.
Extra 20% off
on Groupon deals with promo code
SAVE
(thru Friday!)
Directions