Thursday, June 15 • Country Western Night • CHILI & FIX'NS
Friday, June 16 • OLGC Christmas Party • CRAB CAKES & HOT TURKEY SANDWICHES
Saturday, June 17 • Kentucky Derby Night • SLIDERS & CHEESESTEAKS
Nightly Entertainment!
DESIGNER BAG BINGO on Saturday, June 17 at 1 PM
BINGO • Come try your luck all 3 nights!
AMUSEMENTS • FUNNEL CAKE • CHILDRENS GAMES • GAMES OF CHANCE • BAKE SALE
PRESALE OF AMUSEMENT WRIST BANDS WILL BE AVAILABLE FOR $25.00 PER CHILD (pre-purchase discount offered at www.innovativeticketing.com)
Visit www.olgc.org for more info!
Event Flyer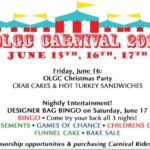 Note: This event is more than one month away, details may change so check back closer to the event.
Event Sites & Contact
Directions
Our Lady of Good Counsel Church Carnival
Our Lady of Good Counsel, 611 Knowles Ave, Southampton, PA 18966
Get Directions
Our Lady of Good Counsel, 611 Knowles Ave, Southampton, PA 18966
Get Directions